USA: Keep Innocent Animals Safe from Torture!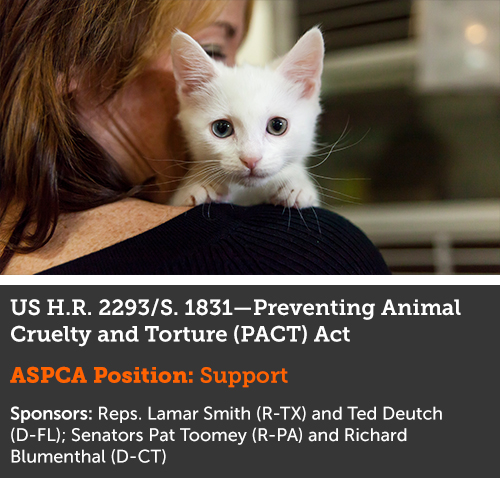 Update—December 12, 2016:  In one of its last acts before adjourning, the U.S. Senate passed the PACT Act by unanimous consent on the night of December 9. Although it is too late for the bill to pass in the House, it did have more than 250 cosponsors in that chamber. As such, we believe that the bill stands a good chance of passing if reintroduced in the 115th Congress next year. Thank you for your help and support, advocates.

The Animal Crush Video Prohibition Act (signed into law in 2010) prohibits the sale and distribution of crush videos. These gruesome videos record the intentional torture (crushing, burning, suffocating or other cruelty) and killing of live animals, such as hamsters, kittens or other small animals, for the sick gratification of the viewer. While the distribution of these appalling videos is illegal under federal law, the violent acts recorded in them are not.
That's because animal cruelty is prosecuted at the state level. Although all 50 states have felony penalties for animal cruelty, there is no federal law that protects animals when abuse occurs in places where the federal government has jurisdiction, such as on federal property or in a federal building. The PACT Act seeks to bridge this gap and allow for federal prosecution of animal torture in instances where local and state law enforcement cannot reach. 
The ASPCA has long recognized the well-documented link between animal cruelty and other serious crimes such as domestic violence and child abuse. The PACT Act will help protect both animals and people from these vicious and cruel acts.