USA: Urge Congress to Ban Horse Slaughter Once and for All!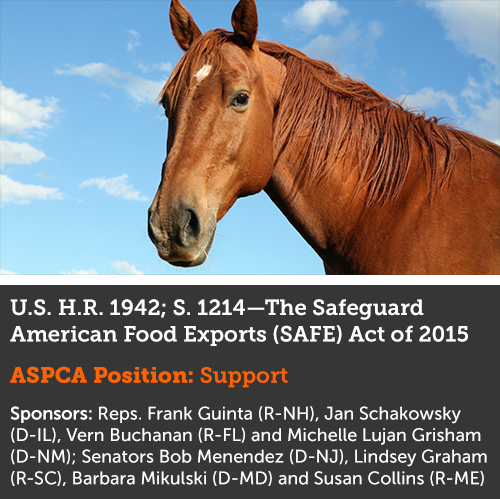 Each year approximately 150,000 American horses are trucked to Mexico and Canada to be slaughtered for human consumption. Horse slaughter is a cruel, unnecessary, predatory industry that has no domestic market.

Horse slaughter is especially inhumane because horses, skittish by nature, are extremely difficult to render unconscious before slaughter. They often endure repeated blows to the head and sometimes are alive and kicking during dismemberment. Transport to slaughter is also hellish—journeys are long and brutal and often made with little food, water, or rest. Horses are crammed tightly into trailers, often leading to fights, and many horses are severely injured or dead upon arrival at the plant.

American horse meat is unsafe for human consumption because horses are not raised as food animals in this country. Throughout their lives, horses are given medications and other substances that, because of their known toxicity to humans, are expressly forbidden for use in animals intended for human consumption. Horse slaughter is bad for horses and bad for people.

The Safeguard American Food Exports (SAFE) Act, H.R. 1942/S. 1214, would end this cruel practice. The bill would prohibit the slaughter of horses for human consumption in the U.S. and ban their export abroad for that purpose.

Eighty percent of American voters oppose horse slaughter for human consumption. Horses are our companions and a historically significant part of American culture. We owe them a kinder, more dignified end of life than to be cruelly slaughtered.

Congress must pass legislation to ban the butchering of American horses for human consumption in the U.S. and prohibit the export of American horses to other countries for that purpose. Every horse is just one bad sale away from slaughter—until a ban is in place, no horse is safe.
 
What You Can Do
Please take these two simple actions right now to help protect horses:
1. Place quick, polite phone calls to your federal legislators' offices in Washington, D.C. You can find their names and numbers here. Don't be nervous about calling—it's easy, fast and by far the most effective thing you can do! Here is a sample script you can use when speaking to the receptionist:

"Hi, this is [your name] and I am your constituent residing in [town and state]. I'm calling today to urge Representative/Senator [legislator's name] to cosponsor the SAFE Act to ban the slaughter of American horses for human consumption and their export abroad for that purpose. Thank you."  

2. Then, please take a moment to send a follow-up email to your U.S. senators and representative and urge them to support the SAFE Act to permanently ban the slaughter of American horses for human consumption and the transport of American horses over our borders for that purpose.
On behalf of America's horses, thank you!

Please note that the form has two steps. After you submit your information, you will be able to view and edit our pre-drafted messages before authorizing them to send. If your representative or senator is already a cosponsor of H.R. 1942/S. 1214, he/she will receive a thank you letter.