USA: We Must Pass Horse Slaughter Ban Before November!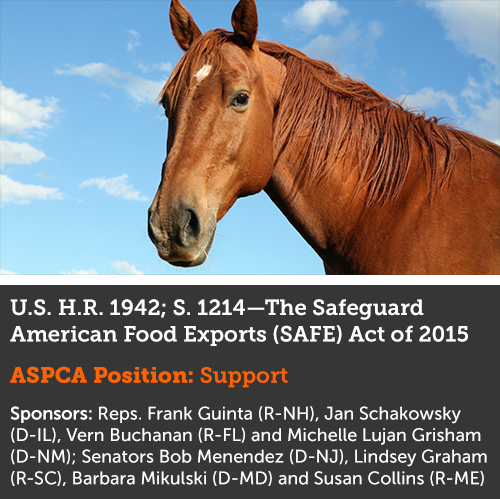 Update—September 20, 2016:

An advisory board to the U.S. Bureau of Land Management (BLM) recently proposed that the agency kill more than 45,000 of America's wild horses and burros, either by destroying them outright or selling them indiscriminately. Since meat buyers would be likely to buy these horses en masse, either option ends in death. Luckily, BLM has stated that it won't act on the board's recommendation … for now. With a new administration coming soon, the horses' future still hangs in the balance. The public won't stand for the horses to be killed—and if slaughter were banned, selling off these horses wouldn't even be part of the conversation. Lacking any way to dump this "burden" elsewhere, the BLM would be forced to actually take proper care of our wild horses, i.e., do their job. Congress can remove this threat permanently by passing the SAFE Act.


The current two-year session of the U.S. Congress is over at the end of this year and most of the work will be done before November's election. We've already made great strides building congressional support for the SAFE Act, but time is running out for legislators to pass this important bill banning horse slaughter for good! 
You know horse slaughter is a cruel, unnecessary, predatory industry. But what you may not know is that the SAFE Act is not new legislation. Anti-horse-slaughter bills have been introduced in each Congress for the past decade. Despite widespread bipartisan support, not one of these bills has made it over the finish line. In those 10 years, approximately 1,000,000 horses have been sent over our borders to horrific deaths. Enough is enough.
The Safeguard American Food Exports (SAFE) Act (S. 1214/H.R. 1942) would end this cruel practice by prohibiting the slaughter of horses for human consumption in the U.S. and banning their export abroad for that purpose. 
Every horse is just one bad sale away from slaughter. Until a federal ban is in place, no horse is safe.
What You Can Do
1.  Using the form below, please take a moment to send an email to your U.S. senators and representative urging them to actively support the SAFE Act and finally pass it this year. If any of your federal legislators are already cosponsors, they will get an email thanking them and reminding them to make passage of this bill a priority in the remaining weeks of the 2015-2016 session.
2.  Then, be sure to spread the news on social media. Use the buttons below to share this with your networks, or write your own! Don't know what to say? Here's a sample tweet: 
Urge your members of Congress to pass the SAFE Act to protect #horses from slaughter! Take action at www.aspca.org/SafeAct
On behalf of America's horses, thank you! 

Enter your information in the form below to send our pre-drafted messages urging your legislators to support the SAFE Act. If your representative or senator is already a cosponsor, he or she will receive a thank you letter. To view our pre-drafted messages, please click on "view all possible messages."