USA: Support Legislation to Protect Animals During Disasters!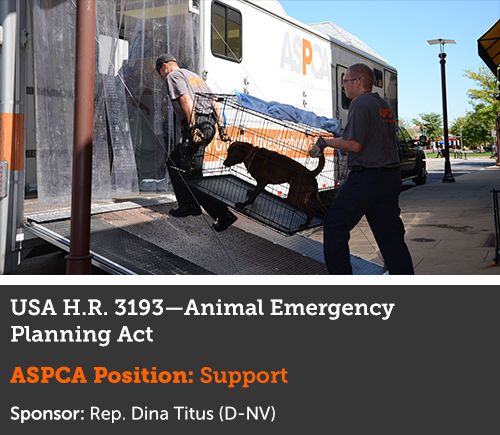 Update—December 19, 2016:  Animals caught up in disasters still need your help! Though it didn't pass in 2016, the ASPCA looks forward to passing the Animal Emergency Planning Act when this bill is reintroduced in the 115th Congress.

As a frontline responder, the ASPCA knows firsthand that disasters create impossible, heartbreaking scenarios for animals and the people who risk their own safety to rescue them. During Hurricane Sandy in 2012, the ASPCA helped more than 61,000 animals through search and rescue, setting up emergency veterinary clinics, emergency boarding, and pet supply distribution centers —at no cost to taxpayers.

Given the size and expense of these efforts, businesses that make money off of animals should be required to prepare for emergencies and have well-formed plans in place ahead of time to protect the animals in their care.

The Animal Emergency Planning Act (H.R. 3193) will require facilities regulated by the Animal Welfare Act (AWA)—such as commercial animal breeders, zoos and research institutions—to create detailed response plans for protecting animals in their care during disasters and ensure that employees know what steps to take when an emergency occurs.