USA: Help Stop Government-Funded Animal Torture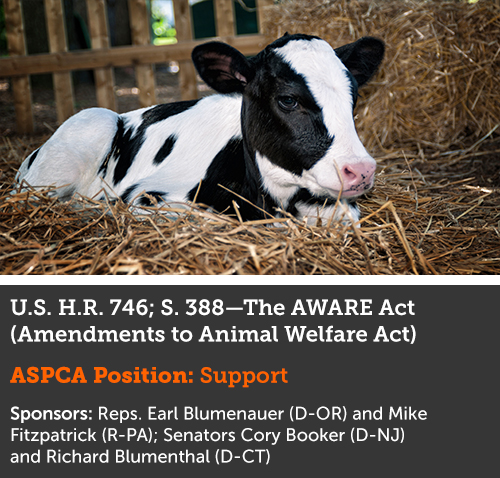 Update—December 19, 2016:  The ASPCA won important improvements for animals used in federally funded agriculture research in 2015's agriculture appropriations bill. We look forward to building on this momentum when the AWARE Act is reintroduced in the 115th Congress in 2017.

A horror show of farm animal cruelty has been operating under the nose of the American public. After a recent New York Times exposé brought these nightmarish experiments to light, Congress reacted swiftly: On February 5, the Animal Welfare in Agricultural Research Endeavors (AWARE) Act was introduced in both chambers with bipartisan support. This much-needed legislation would require agricultural research at federal facilities such as U.S. Meat Animal Research Center to meet certain basic welfare standards outlined in the Animal Welfare Act.
For decades, taxpayers have unknowingly footed the bill for unregulated farm animal experiments—institutionalized animal torture masquerading as "research"—performed solely to increase meat producers' profits.
On March 9, 2015, the USDA released a report that attempts to sweep under the rug its failure to oversee animal research at USMARC. For 13 years, USMARC ignored an internal policy requiring that animal research projects be reviewed to determine whether they were necessary and to minimize undue suffering. Since the USDA has shown itself to be unwilling to take responsibility for the welfare of the animals in its care, Congress must pass the AWARE Act to hold the agency accountable.
If you are outraged by this cruelty and believe that all federal agencies, regardless of their mission, should be required to use taxpayer funds appropriately and in a transparent, humane manner, please speak up!