Texas, Puppy Mill Dogs Need Your Voice!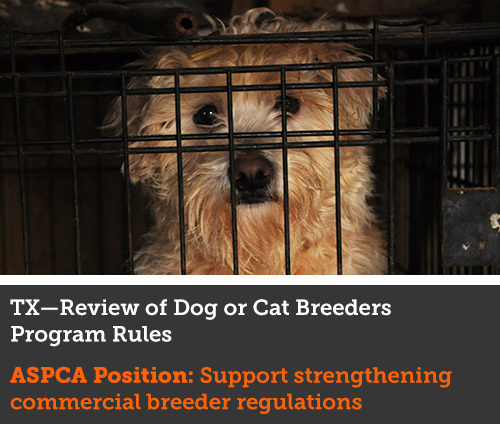 While Texas does regulate commercial dog breeders, it is still legal for breeders to house dogs in overcrowded and unsanitary conditions, often in tiny, wire-floored cages stacked unsafely on top of each other. 
We now have a rare opportunity to improve these deplorable conditions for thousands of dogs in Texas. The Texas Department of Licensing and Regulation (TDLR) is currently reviewing the state's regulations for commercial breeders.
 
Please join us in urging TDLR to improve the lives of puppy mill dogs by requiring these animals be given more living space, requiring a solid resting surface and banning the unsafe practice of cage-stacking. Breeding dogs typically spend their entire lives in these tiny, wire-floor cages, and these improvements are critical to their safety and wellbeing.
 
What You Can Do
Thanks to all of you who made your voices heard or joined us in Austin in support of this important issue. Public comments are currently under review by the TDLR, so please stay tuned.