Tennessee: Don't let puppy mills write your laws!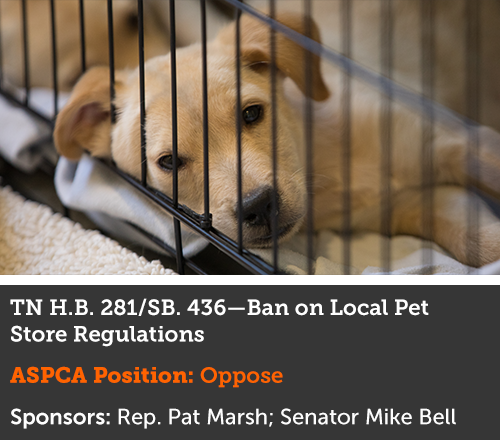 As you may know, most puppies sold in pet stores come from puppy mills, cruel breeding facilities that prioritize profit over the health and well-being of animals. Dogs in these operations are often kept in overcrowded and unsanitary conditons without adequate veterinary care, food, water or socialization.
To date, nearly 300 localities across the nation—as well as two whole states (CA and MD)—have enacted laws to keep cruelly bred puppies out of their pet stores. Just last year, Tennessee cities Nashville and Franklin passed such legislation; these local-level bans are crucial to reducing the demand for cruelly sourced pets.
The Tennessee State Legislature will soon consider House Bill 281/Senate Bill 436, legislation that would strip local governments in your state of their authority to ban the sale of cruelly bred dogs in their pet stores. Passage of these bills would roll back the progress we've made toward minimizing puppy mill cruelty in Tennessee.
Help us oppose these harmful bills!
What You Can Do
This bill will soon be considered by the Senate Enegry, Agriculture and Natural Resources Committee. Your state senator needs to hear from you right now! Please take these two quick actions today:
1. Call your state senator now and urge him/her to oppose H.B. 281. If you don't know who represents you in the Tennessee State Senate, you can find your lawmaker's names and phone numbers here.
2. Use the form below to send a follow-up email to your senator with the same message of opposition.
Thank you, Tennessee!