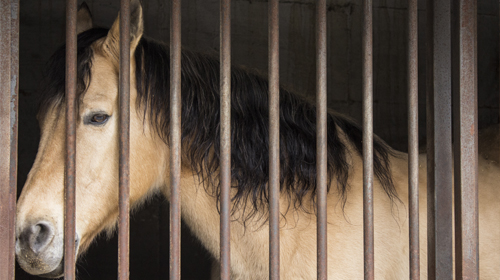 U.S H.R. 961/S. 2006–Safeguard American Food Exports (SAFE) Act
ASPCA Position: Support
Sponsors: Reps. Jan Schakowsky (D-IL) and Vern Buchanan (R-FL); Senators Bob Menendex (D-NJ), Lindsey Graham (R-SC), Sheldon Whitehouse (D-RI), and Susan Collins (R-ME)
The horse slaughter industry is cruel, unnecessary and predatory, and each year that passes without a federal ban in place sees another 80,000 American horses shipped over our borders to be butchered for human consumption. Every single horse in this country, no matter how loved, is just one bad sale away from slaughter.
The Safeguard American Food Exports (SAFE) Act (H.R. 961/S. 2006) is federal legislation that would prevent the horse slaughter industry from reestablishing operations in the U.S. and prohibit the export of American horses abroad for slaughter.
While over half the members of the U.S. House of Representatives have already officially committed to sponsoring this bill, we need your help to secure more support to get this bill passed.
Anti-horse-slaughter bills have been introduced in each Congress for the past decade. Despite wide bipartisan support, not one of these bills has passed into law. Let's make 2020 the year it does!