Rhode Island, Support Bill to Ban Predatory Pet-Leasing Schemes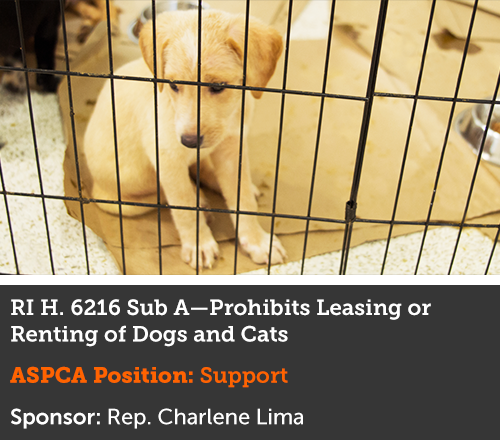 Update—July 12, 2017: Although H. 6216 Sub A, which would have prohibited Rhode Island businesses from renting, leasing, or selling a cat or dog, passed the House, it did not pass in the Senate. We want to thank all our advocates who spoke up in support of this important bill.  We hope you'll stand by our side as we continue to fight to protect vulnerable animals and consumers from deceptive, predatory financing arrangements.
Puppies sold in pet stores and online—many of whom are sourced from puppy mills— are often accompanied by soaring sticker prices. To take the sting out of the high costs, pet sellers team up with private lending companies that offer pet-leasing plans. These leases allow the consumer to make monthly payments over a fixed period of time, but charge outrageously high interest rates and require consumers to buy out their leases at the end in order to keep their pets. These deceptive, predatory financing arrangements benefit only the lending company and the pet seller—not the consumer, and certainly not the animal involved.
According to an NBC-10 news report, a consumer could easily spend $2,000 on a $1,000 dog over the course of a two-year lease (not including the required lease-end buyout). What's worse, consumers can lose their leased animals if they miss payments or are unable to buy out their contracts at the end of their leases. The animals are repossessed as if they were used cars.

H. 6216 Sub A would have addressed this by prohibiting any business or individual in Rhode Island from renting, leasing, or selling a cat or dog other than through a full, outright sale. This bill passed overwhelmingly in the Rhode Island House of Representatives.