Rhode Island, Farm Animal-Protection Bill Needs Your Help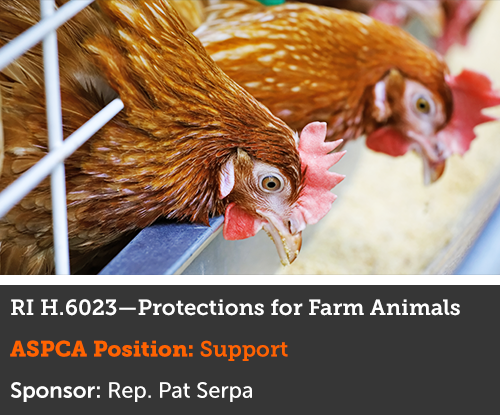 Update—July 12, 2017: Although H.6023, legislation that would have phased out these cruel cages for egg-laying hens in Rhode Island, passed the House, it did not pass in the Senate. We want to thank all our advocates who spoke up in support of this humane bill, and we hope you'll stand by our side as we continue to fight to protect farm animals.
Rhode Island banned the cruel confinement of veal calves and mother pigs in 2012, and already requires that other farm animals be given adequate space for movement and normal posture. In fact, the state even requires regular exercise for confined cows, camels, alpacas and equines. Yet despite these advances, Rhode Island still permits the use of conventional hen confinement systems known as "battery cages."
Most egg-laying hens in the United States live out their lives in these tiny, wire cages roughly the size of a file drawer, housed in long, windowless sheds. With up to 10 hens packed together in a single cage, the confined birds can't even spread their wings—and these poor conditions increase the potential for disease and foodborne illness, like salmonella, to spread.
H. 6023 would have phased out these cruel cages for egg-laying hens and required that each egg-laying be provided with at least one foot of floor space, allowing them to turn around freely, lie down, stand up, and fully extend their wings without touching the side of an enclosure (or other birds).