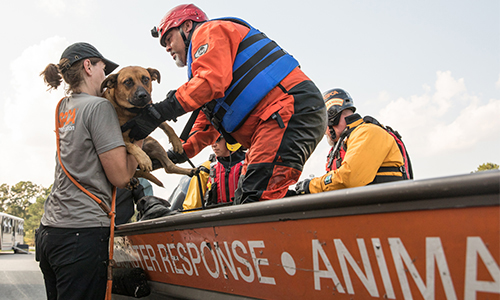 H.R. 7789/S. 4205—Planning for Animal Wellness (PAW) Act
ASPCA Position: Support
Sponsors: Senators Gary Peters (D-MI) and Rob Portman (R-OH); Representatives Dina Titus (D-NV) and Peter DeFazio (D-OR)
The Planning for Animal Wellness (PAW) Act, H.R. 7789/S.4205, will help keep families with pets safe when natural disaster strikes. This critical new bill will require government agencies and outside experts to include pets in all levels of disaster planning, including preparedness, response and recovery efforts.
Learn More
Every year, tornadoes, hurricanes, wildfires, and other natural disasters force families to flee their homes. Lack of emergency resources for those with companion animals leave people with an impossible decision: evacuate without their beloved pets or risk sheltering in place to stay together.
The PAW Act would foster collaboration among state and local governments, academia and non-profits to establish best practices for addressing the needs of household pets, service and assistance animals, and captive animals before, during and after natural disasters.
What You Can Do
Please use the form below to email your federal lawmakers, urging them to advance the PAW Act. If your legislator is already cosponsoring this bill, our system will instead generate a message of gratitude.
Thank you for using your voice to keep people and pets safe!