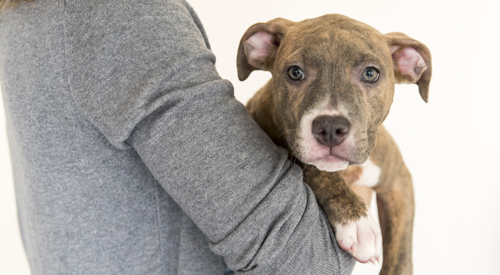 Overland Park, Kansas, Breed Ban Repeal
ASPCA Position: Support Repeal
Update—September 21, 2021: The Overland Park City Council met last night and unanimously voted in favor of repealing the city's pit bull ban. Please check out our News post for more information. Thank you, Overland Park advocates!
----

Good news, animal advocates: Overland Park's law prohibiting the ownership of "pit bulls" (Staffordshire Bull Terriers, American Staffordshire Terriers, American Pit Bull Terriers and any breed of dog that has the appearance or characteristics of any of these breeds) is currently under review by the City Council. This means we have a chance to make meaningful change for all dogs and their families in Overland Park!
The current breed ban is discriminatory and prevents pets from finding good homes by imposing a fine of up to $1,000 for anyone convicted of violating this law, as well as ordering removal of the dog from the city. In addition, the Court may sentence the defendant to up to 30 days in jail.
According to a study conducted by the Centers for Disease Control and Prevention, there is zero evidence that banning entire classes of dog breeds makes a community safer. What's more, breed-specific ordinances punish owners of otherwise friendly, well-socialized dogs.
Kansans are turning the tide for human safety and dog welfare. Junction City, Fort Scott, Prairie Village, Paola, Andover, and most recently, Liberal have already overturned their former discriminatory bans against pit bulls, allowing once-endangered dogs to find new, loving homes and keeping people and their pets together. Overland Park, you can help reverse your town's harmful policy by taking action now!