USA: Farm Animal Protections Under Attack!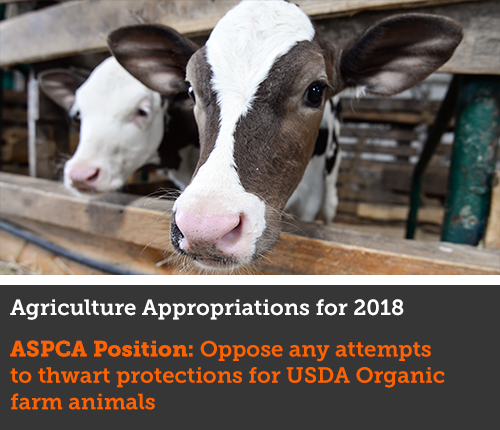 Earlier this year, the U.S. Department of Agriculture's (USDA) National Organic Program finalized new animal welfare standards for animals raised on USDA Organic-certified farms.
We received word that when Congress considers the Agricultural Appropriations bill for 2018, opponents of these standards may attempt to slip in a provision to block the organic farm animal care rules.
These standards come at a very important time: Though most organic farmers already voluntarily meet a high standard of welfare, the exploding demand for organic foods in recent years has led to a growing number of producers raising animals in conditions virtually indistinguishable from factory farming.
The new rules are the first set of comprehensive federal requirements for the treatment of farm animals and mandate basic protections, like minimum space and outdoor access for poultry, and restrict cattle tail-docking and other physical alterations.
What You Can Do
Use the form below to email your U.S. senator serving on the Appropriations Committee and tell him or her to protect these historic animal welfare standards and to reject any measure that would weaken, block or threaten the implementation of these rules.

On behalf of our nation's farm animals, thank you!