USA: Farm Animal Protections Under Attack!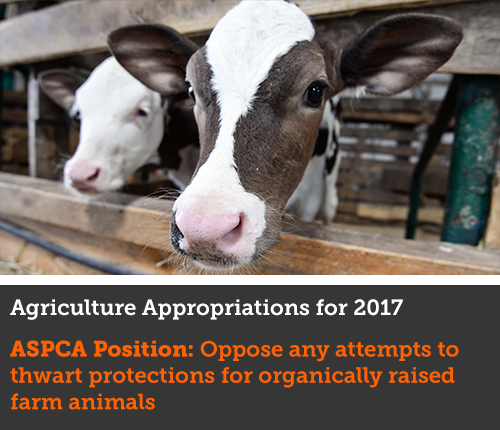 Update—May 4, 2017: Congress passed a budget through September that does not block the organic animal welfare rule. Thank you for taking action! This rule is still reviled by Big Ag interests who don't think laws should require higher animal welfare, so stay tuned for any new threats that may arise to prevent this important new regulation from taking effect. We may still need your help, so please be on the lookout for emails from the ASPCA.
Earlier this year, the U.S. Department of Agriculture's (USDA) National Organic Program finalized new animal welfare standards for animals raised on USDA Organic-certified farms. However, Congress may try to block these standards before they're implemented.
We had received word that when Congress considers the next Agricultural Appropriations bill, opponents of these standards may have attempted to slip in a provision to block the organic farm animal care rules.
These standards come at a very important time: Though most organic farmers already voluntarily meet a higher standard of welfare, the exploding demand for organic foods in recent years has led to a growing number of producers raising animals in conditions virtually indistinguishable from factory farming.
The new rules are the first set of comprehensive federal requirements for the treatment of farm animals and mandate basic protections, like minimum space and outdoor access for poultry, as well as restrictions on cattle tail-docking and other physical alterations.