Oklahoma, Oppose Bill Threatening Citizens and Farm Animals!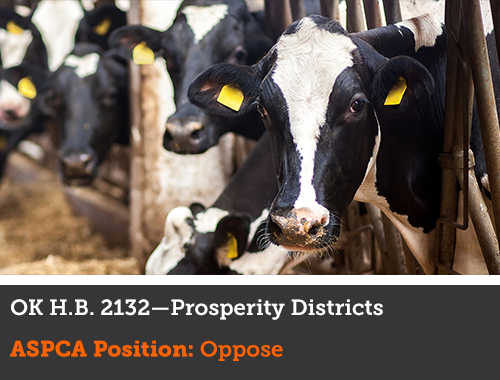 Update—April 17, 2017:  H.B. 2132 did not make it to the Senate and is dead for the session. Thank you to everyone who spoke out against this dangerous bill!
After Oklahoma citizens defeated the dangerous "Right to Farm" (Question 777) ballot measure by more than 60% of the vote last November, the state Legislature was back at it again with an equally dangerous bill.
House Bill 2132 would have allowed corporations and businesses to create "prosperity districts," zoned-off areas where state and local regulations (such as basic labor, animal welfare, food safety and environmental standards) cannot be enforced.
This bill prioritized the interests of large corporations, allowing industries like puppy mills and factory farms to grow unchecked and threatening the state's small businesses, local land-use decisions and animal welfare regulations.