Ohio, Enact Common-Sense Restrictions on Outdoor Tethering!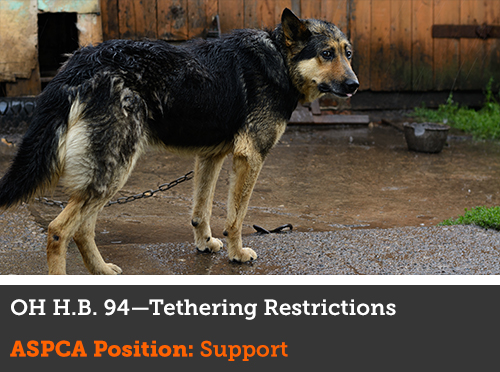 Update—December 19, 2016:  Unfortunately H.B. 94, a bill that would have restricted long-term tethering of dogs in Ohio, died before the legislature adjourned for the year. With extremely cold temperatures predicted for Ohio this winter, we will need your help in reintroducing this bill in the legislature next year. We hope you will stand beside us as we fight for Ohio's dogs in 2017.

Dogs who are tethered or chained outdoors without adequate shelter are often subjected to extreme weather, including intense heat, bitter cold, rain and snow, and can suffer—or even die—from exposure to the elements.

Dogs who are continuously tethered are frequently denied food and water, and studies show that they are more likely to act territorial.

Ohio House Bill 94 would remedy this by prohibiting a dog from being tethered outdoors without access to adequate shelter, food and water; restricting the length of time dogs can be tethered; and requiring owners to bring their dogs indoors during extreme weather events.