Ohio, Support Animal-Protection Bills!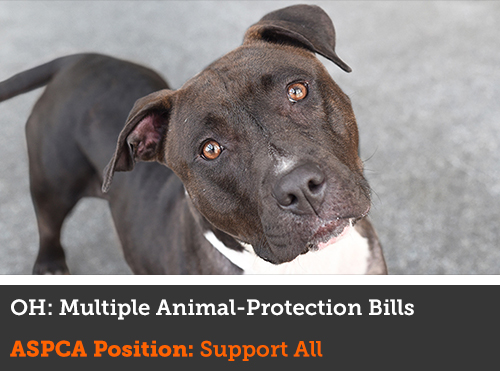 Update—December 20, 2016:  We are disappointed that, despite strong opposition, S.B. 331 was signed into law by Governor Kasich with the Petland language retained. While this is a huge setback in the work done to protect puppy mill dogs, S.B. 195 and H.B. 215 were passed as part of S.B. 331, which will ban bestiality and make cockfighting a felony in the state. These are important measures that, with your help, we have fought on behalf of for years. We want to extend a huge thank you to all of you who made your voices heard on these critical issues, and we hope we can count on you to stand with us as we continue to protect Ohio's vulnerable animals in 2017.
S.B.195 (the bestiality ban) and H.B. 215 (which will make cockfighting a felony) both passed out of the Ohio State Legislature on December 7, 2016 as part of S.B. 331, the Petland bill.

While these are two important issues that the ASPCA has long fought hard to enact in Ohio and that many Ohio legislators have personally championed, they are good provisions tied to a poison pill—the bill's Petland language, which allows pet stores to continue to sell puppies from puppy mills.

Governor Kasich had the ability to line-item veto specific parts of bills passed by the Legislature, which he could have done to stop Petland's attack on regulating pet stores in Ohio while allowing the enhanced cockfighting penalties and the ban on bestiality to become law.