Ohio, Farm Animals Need Your Voice! Improve Livestock Care Standards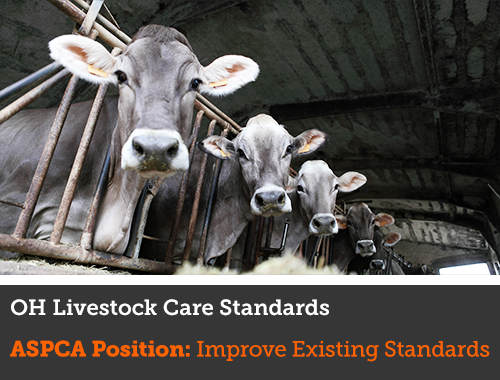 Update—August 11, 2017: The comment period has now closed. We want to thank everyone who spoke up. Please stay tuned—we may need your help in the future!

Ohio's Livestock Care Standards Advisory Board will be meeting on Tuesday, August 15, 2017, to advise the Department of Agriculture on the state's livestock welfare regulations.

We urgently need your help to convince the Advisory Board to amend the Livestock Care Standards to require that:
 Dairy and beef cattle have pain control during surgical alterations;
 
 Cattle be exercised and not continuously tethered or confined to stalls;
 
 Pigs have pain control during surgical alterations, and pregnant pigs are never individually crated except in exceptional and clearly delineated cases.
Your voice has the power to improve the quality of life for Ohio's forgotten farm animals.