Ohio, Farm Animals Need Your Voice! Improve Livestock Care Standards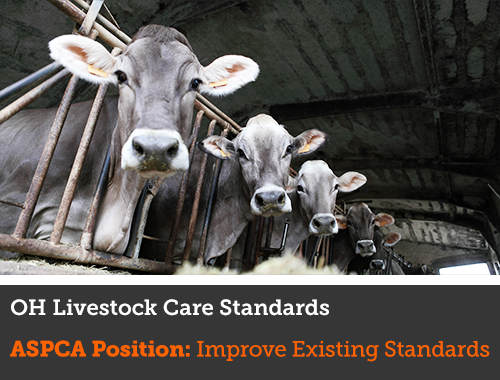 Update—December 4, 2017: Although the Livestock Care Standards Board declined to adopt our suggestions, we want to thank everyone who took action on this important issue. We also want to applaud the Board for acting in accordance with our recommendation to notify farmers in advance of 2018 phase-outs taking effect, including non-medically necessary dairy cow tail-docking; the tethering of veal calves; restrictions on veal calves' ability to turn around; and housing veal calves individually past a certain age. These changes, implemented after Ohioans overwhelmingly passed State Issue 2 in November 2009, will take effect on January 1, 2018.
Ohio's Livestock Care Standards Advisory Board will be meeting on Tuesday, August 15, 2017, to advise the Department of Agriculture on the state's livestock welfare regulations.

We urgently need your help to convince the Advisory Board to amend the Livestock Care Standards to require that:
 Dairy and beef cattle have pain control during surgical alterations;
 
 Cattle be exercised and not continuously tethered or confined to stalls;
 
 Pigs have pain control during surgical alterations, and pregnant pigs are never individually crated except in exceptional and clearly delineated cases.
Your voice has the power to improve the quality of life for Ohio's forgotten farm animals.