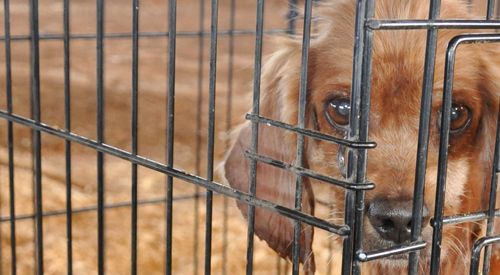 Ocoee Ordinance Proposal on Retail Dog and Cat Sales
ASPCA Position: Oppose
Puppy mills keep dogs in cramped cages, forcing them to breed over and over without ever knowing the joys of playtime or human affection. That's why approximately 80 local governments in Florida have enacted laws aimed at stopping the retail sale of puppies from puppy mills.

This past June, after hearing from hundreds of Orange County residents, the Orange County Board of Commissioners adopted an ordinance to end the retail sale of dogs, cats and rabbits countywide. This was an incredible win for animals. However, the Ocoee City Council is now considering adopting an ordinance to provide an exemption for pet stores that currently sell dogs and cats: effectively undoing the progress made by the Orange County ban.
As currently written, Ocoee's proposed ordinance regulating the retail sale of dogs, cats and rabbits contains language that would allow existing pet stores selling dogs and cats to continue to operate. We cannot let this happen. Orange County government officials voted to shut down the puppy mill pipeline for good. Ocoee city officials should reject the proposal and keep puppy mills from creating a terrible loophole right in your city.
What You Can Do
As a resident of Ocoee, you can make a tremendous difference for dogs, cats, and rabbits by contacting the Ocoee City Commission. Please take action TODAY.