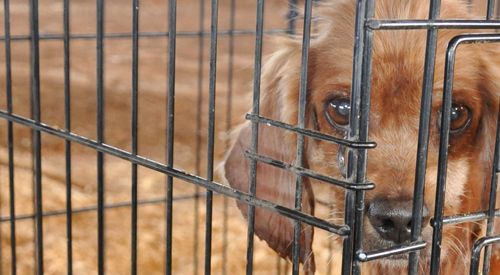 Ocoee Ordinance Proposal on Retail Dog and Cat Sales
ASPCA Position: Oppose
Update—October 20, 2021: Unfortunately, on October 19, 2021, the Ocoee City Commission voted 3-2 to approve an ordinance that will allow the retail sale of dogs and cats from puppy mill sources to continue.
While we are disappointed by this outcome, we are grateful to all of those who used their voice to speak out in opposition of this harmful proposal. Puppy mills keep dogs in cramped cages, forcing them to breed over and over without ever knowing the joys of playtime or human affection. That's why approximately 80 local governments in Florida have enacted laws aimed at stopping the retail sale of puppies from puppy mills.
Interested in doing more for animals in Ocoee? Please consider joining the ASPCA'S Regional Advocacy Field Team (RAFT)—you'll work closely with our Legislative Engagement team and fellow volunteers to help pass priority legislation through grassroots advocacy! Learn more and apply here.
This past June, after hearing from hundreds of Orange County residents, the Orange County Board of Commissioners adopted an ordinance to end the retail sale of dogs, cats and rabbits countywide. This was an incredible win for animals. However, the Ocoee City Council is now considering adopting an ordinance to provide an exemption for pet stores that currently sell dogs and cats: effectively undoing the progress made by the Orange County ban.
Ocoee Mayor Johnson and Ocoee City Commissioners are poised to adopt an ordinance that would allow stores to continue selling inhumanely bred dogs and cats to unsuspecting customers. We cannot let this happen. Orange County government officials voted to shut down the puppy mill pipeline for good. Ocoee city officials should not enact a law with a harmful loophole that could attract even more puppy-selling stores to Ocoee.