New York, Gov. Cuomo Signs Budget Providing $5 Million for Animal Shelters!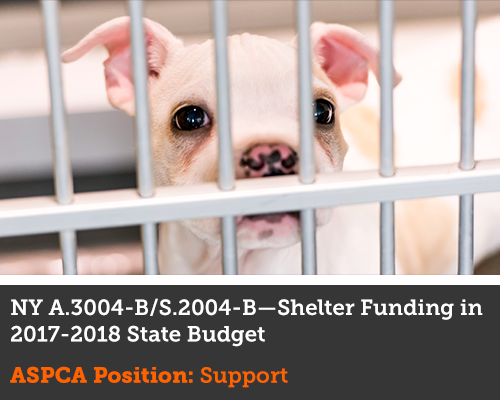 Update—May 1, 2017: Great news, advocates! We are pleased to report that Governor Cuomo signed the 2017-2018 budget, which includes the $5 million funding source for the Companion Animal Capital Fund. Thank you to everyone who spoke up and made your voices heard on behalf of this important issue. We couldn't do it without you!
New York law requires almost every municipality in the state to maintain an animal shelter for homeless and abandoned animals. Not-for-profit SPCAs, humane societies and other animal rescue organizations often contract with local governments to provide sheltering services, but the state provides little or no money to help offset costs.
This year, the New York State Legislature acknowledged the critical infrastructure needs of animal shelters in the state with the creation of the Companion Animal Capital Fund in its Capital Projects Budget bill (A.3004-B/S.2004-B). This will allot $5 million in funds to help shelters with essential structural repairs and improvements.