New York: Bill to Give Cats a Second Chance Needs You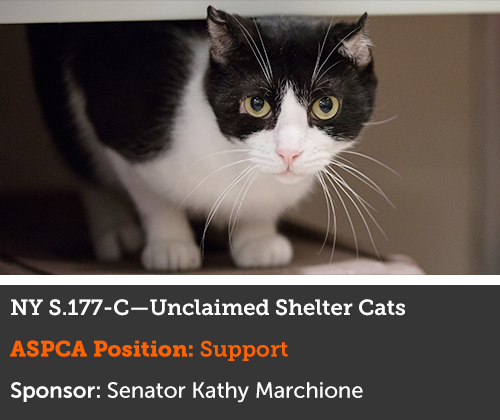 Earlier this year, the legislature passed a bill (S.177-C) that would allow animal shelters to adopt out unclaimed cats in under five days. 
Current law requires this five-day hold for all animals who come into shelters without identification (to allow time for an owner to claim a lost pet). Sadly, shelter directors across the state confirm that a drastically low percentage of the adult cats who enter shelters are reclaimed by their former families. In some parts of the state, the statistic is less than 1%.
 
Even when families are willing and available to provide these cats with homes during this holding period, they must wait the full five days (and perhaps longer, depending upon the shelter's operating hours), leaving the cat vulnerable to common veterinary diseases and occupying valuable space that could otherwise help other animals in dire need of shelter. 
 
S.177-C is a commonsense and collaborative approach to increasing positive outcomes for homeless felines while simultaneously saving money for local governments. S.177-C was passed by both the New York Senate and Assembly, and now we need your help to encourage Governor Cuomo to sign it into law.
What You Can Do
Use the form below to email Governor Cuomo and ask him to continue his history of securing stronger protections for some of the most vulnerable animals in our sheltering systems by signing S.177-C into law. 
 
Thank you, New York!