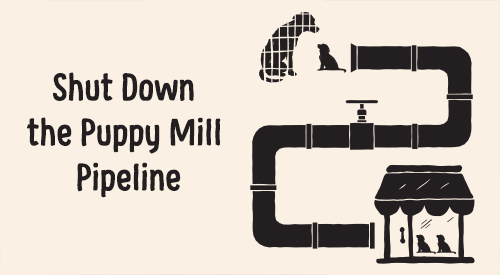 NY A.6298-A/S.4234-A—End the Retail Sale of Dogs and Cats in Pet Stores
ASPCA Position: Support
Sponsors: Senator Michael Gianaris; Assemblymember Linda Rosenthal
Right now, there are over 2,000 puppies for sale in New York pet stores. Most of these dogs got there through a pipeline of out-of-state breeders and middlemen who ship animals from puppy mills to stores in our communities. It's a cruel and broken system made possible because in New York State it's still legal to sell dogs in pet stores.
If you've never seen a puppy mill, that's because the commercial dog breeding industry really doesn't want you to. Imagine dogs living in cramped cages being bred over and over, many of them never knowing the joys of playtime or human affection. Shutting down the puppy mill pipeline will stop commercial breeders from selling puppies in New York pet stores—and make it harder for them to profit from cruelty.
State lawmakers are considering ending the retail sale of dogs in New York, which would shut down the puppy mill pipeline for good. But they need to hear from New Yorkers like you.
What You Can Do
If you live in New York, please use the form below to contact your state legislators today and urge them to support A.6298-A/S.4234-A to keep cruel, out-of-state puppy mills from profiting in New York.
Thank you, New York.