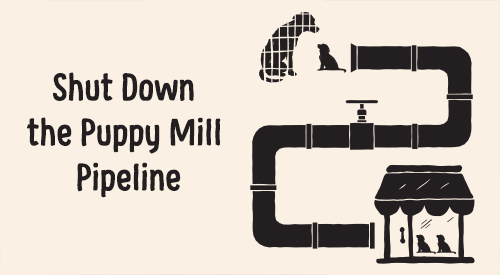 NY A.4283/S.1130 - End the Retail Sale of Dogs, Cats and Rabbits in Pet Stores
ASPCA Position: Support
Sponsors: Senator Michael Gianaris, Assemblymember Linda Rosenthal
Update—May 23, 2022: Great news! Today, the State of New York moved one step closer to ending the retail sale of dogs, cats and rabbits in pet stores: A. 4283 made it through the Assembly Rules Committee! Next, to move on to the Governor for final approval, we need this bill to receive a passing vote in the full NY State Assembly. Email your assemblymember below to help advance the Puppy Mill Pipeline Bill! 
The Puppy Mill Pipeline Bill will end the sale of dogs, cats, and rabbits in pet shops, making it harder for puppy mills to profit in the Empire State.
Learn More
Right now, out of state puppy mills ship their puppies via a pipeline of middlemen to New York pet stores, where they are marketed as healthy puppies from responsible breeders. But puppy mills make money by breeding dogs over and over in cruel conditions, selling huge numbers of puppies to pet stores. It's a cruel and broken system made possible because, in New York State, it's still legal to sell cruelly bred dogs and cats in pet stores.
What You Can Do
Please use the form below to send an email to your state legislators asking for their support of the Puppy Mill Pipeline Bill (A.4283/S.1130)!
After you send your letter, please place a call to the Assembly Switchboard, (518) 455-4100, to be directed to your state assemblymember's office, and politely ask for their support. Whether you reach a live person or a voicemail, simply say:
"Hello, my name is [YOUR NAME], and I am calling from [YOUR TOWN]. I am calling to ask my assemblymember to cosponsor and pass the NY Puppy Mill Pipeline Bill, A. 4283. This bill would end the retail sale of dogs, cats and rabbits in NY pet stores, and cut off the flow of cruelly bred puppy mill puppies into NY State. Thank you." 
Thank you, New York.
Questions? Email us at grassroots@aspca.org