New York: Keep Puppy Mill Cruelty Out of Pet Shops!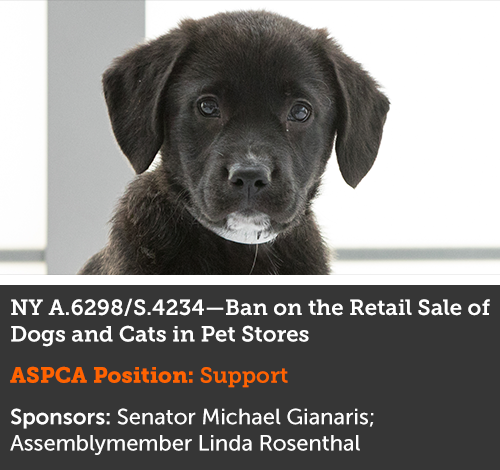 New Yorkers, we have an opportunity to make a huge difference for pets this year by supporting a bill to prohibit the sale of dogs, cats and rabbits in pet stores across the state. California, Maryland, and nearly 300 U.S. cities have already banned the sale of dogs and cats in pet stores. Now New York can do the same—but we need your help, because time is quickly running out!

The New York Legislature adjourns mid-June and the pet industry is working day and night to kill this measure. Animals are companions, not commodities, and they need your firm voice to make sure our laws protect them.
What You Can Do
Please take these two quick actions today:
1. Call your state senator and ask them to support and pass S.4234. This is by far the most impactful action you can take at this point. If you don't know who represents you, you can find your senator's name and phone number here.

You can use the content of the letter below for talking points, or simply say: "Hello, my name is ______ and I am a constituent in your district. Please pass S.4234, which would help curb puppy mill cruelty and keep puppy mill puppies out of our community."
2. Send a follow-up email to your legislators with the same message of support by filling out the form below.
Thank you, New York!