New York: Lawmakers Pass Bill to Ban Predatory Pet-Leasing Schemes!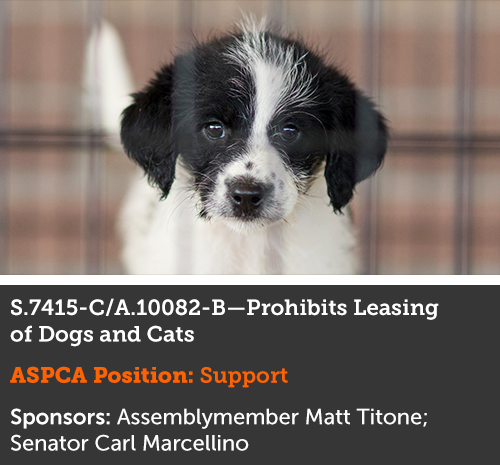 Update—June 14, 2018:  Great news, advocates! The New York State Legislature passed S.7415-C/ A.10082-B to ban puppy leasing once and for all. The bill now heads to Governor Cuomo to be signed into law. 
Puppies sold in pet stores and online—most of whom are sourced from puppy mills— are often accompanied by soaring sticker prices. To take the sting out of the high cost, pet sellers team up with private lending companies that offer leasing plans. These agreements allow the consumer to make monthly payments over a fixed period, but charge outrageously high fees and require consumers to buy out their leases at the end in order to keep their pets. These deceptive, predatory financing arrangements benefit only the lending company and the pet seller—not the consumer, and certainly not the animal involved.
Consumers can lose their leased pets if they miss payments or are unable to buy out their contracts at the end of their leases. The animals are repossessed as if they were used cars.
A bill pending in the New York State Legislature would address this by prohibiting pet stores from offering these predatory leasing or lending agreements to consumers. Please help us get this humane bill passed before New York's 2018 legislative session ends next week.
 
What You Can Do
We hope you will join us in thanking your state legislators for voting to protect animals! Use the form below to send your state senator and representative a thank-you message for passing S.7415-C/ A.10082-B.
Thank you, New York.