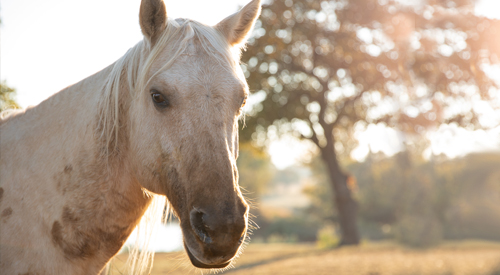 NY A. 5109-A/S. 2163-B—Prohibits Horse Slaughter for Human or Animal Consumption
ASPCA Position: Support
Sponsors: Assemblymember Glick, Senator Addabbo
Update—September 12, 2023: The fight to protect New York's horses isn't over yet! In June, the New York Legislature PASSED this bill, which prohibits the slaughter of horses for human or animal consumption. Help it cross the finish line, and urge Governor Hochul to sign it into law.
Thousands of American horses are trucked over our borders each year to slaughter facilities in Mexico and Canada. New York's horses likely face an even greater risk because of our proximity to Canada. Equines can be purchased and moved out of the country for slaughter in a matter of hours because there is no state or federal prohibition on exporting American horses for slaughter.
Americans overwhelmingly oppose horse slaughter, and it is way past time to give horses the same protection against slaughter that we give cats and dogs. Passing this bill will give at-risk horses the chance to find humane care and loving homes.
Learn More
Horses are purchased by kill-buyers who hold contracts with foreign slaughterhouses. These horses could have found loving homes or been welcomed into equine rescue groups, but kill-buyers frequently intervene. Horses bound for slaughter (who may include pregnant mares, foals and horses who are injured or blind) are commonly and legally shipped for more than 24 hours at a time in crowded trucks without food, water or rest. The methods used to kill them at their final destinations do not uniformly provide quick, painless deaths. 
Peer-reviewed data published in 2017 revealed that 2.3 million adults in the U.S. have both the desire and resources to adopt a horse, demonstrating that there were more than enough homes for the approximately 20,000 American horses who went over our borders to slaughter in 2022. Horses whose illness or age have severely diminished their quality of life deserve a humane passing provided by a veterinarian and should never be forced to endure days of travel without food or water and a horribly cruel death. The ASPCA has helped increase horse adoption and safety nets nationwide, but horses will continue to be at risk until horse slaughter is banned by law.  
What You Can Do
Please use the form below to send a pre-drafted message to Governor Hochul, urging her to sign A. 5109-A/S. 2163-B into law.