New York: Bill to Help Abused Animals Needs You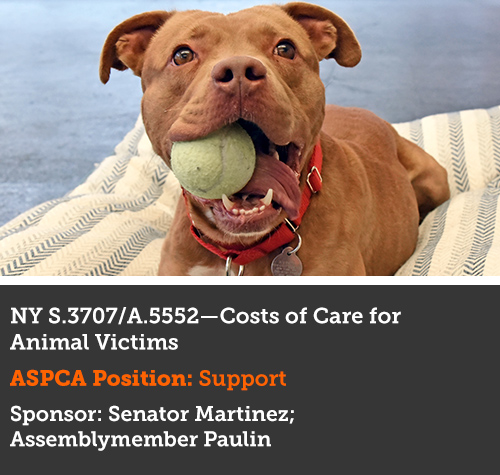 When animals in New York are lawfully seized from puppy mills, dogfighting rings or other cruelty situations, local animal shelters are often forced to pay the high, open-ended costs of caring for them.
New York State's current law allows shelters to file for security to cover these costs, the petition can only be filed once the alleged abuser has been arraigned, which may not occur for several days, several weeks or, in many cases, much longer after the animal has been seized. In New York City, for example, the typical wait for arraignment to occur is at least 6 to 8 weeks.
There are hundreds of small, struggling shelters across the state that cannot absorb the costs of caring for abused animals in an open-ended scenario without serious hardship. What's more, this financial burden often forces shelters to limit the assistance they can offer, discouraging law enforcement from rescuing animals from cruelty in the first place.
The New York State Legislature is considering S.3707/A.5552. This important bill would move up the time in which shelters can file for security, which would offset costs and help shelters better care for seized animals.
What You Can Do
If you have been directed to this page, you are in a special position to help. Our records indicate that you have a state senator who sits on the Senate Domestic Animal Welfare Committee, which will decide the fate of this bill this Thursday, February 28.
Please take these two actions today:
1. Use the form below to quickly email your state senator and urge him or her to vote YES on S.3707/A.5552 when it comes before him or her in Committee.
2. Then place a quick, polite follow-up phone call to your senator with the same message of support. If you don't know who represents you in the New York Senate, you can find his or her name and phone number here. 
Thank you, New York.