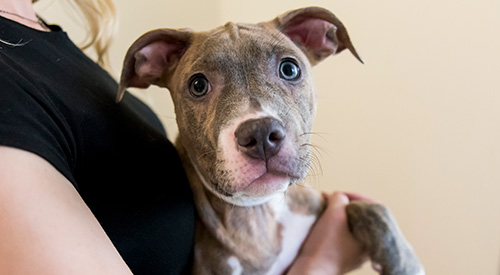 NY A.4075/S.4254—Breed Insurance Discrimination
ASPCA Position: Support
Sponsors: Assemblymember Deborah Glick, Senator Michael Gianaris
Did you know that in New York, it is legal for property insurance providers to significantly increase costs or deny insurance coverage altogether for applicants with specific breeds of dogs in their homes?
Not only is this practice unjust, it is unsupported by the industry's own data! Insurance claim data does not validate the idea that certain breeds of dogs are riskier than non-restricted breeds.
During a time of unprecedented housing challenges for New Yorkers, the cost and availability of insurance has become an even bigger barrier to homeownership for families with pets.
It doesn't have to be this way. The New York State Legislature is considering A.4075/S.4254 to prohibit insurance companies from overcharging on policies based solely on the ownership of a specific breed of dog.
What You Can Do
Use the form below to send a message of support to your state senator and assemblymember in Albany.
Thank you, New York.
P.S. If you have experienced difficulty obtaining homeowner's or renter's insurance because of concerns around your pet, please take a minute to share your story with us at grassroots@aspca.org.