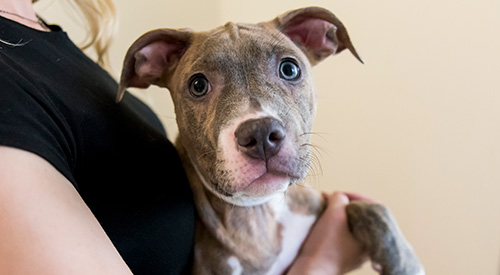 NY A.4075/S.4254—Breed Insurance Discrimination
ASPCA Position: Support
Sponsors: Assemblymember Deborah Glick, Senator Michael Gianaris
Update—June 10, 2021: Great news! The New York State Legislature passed A.4075/S.4254 to remove housing barriers for New Yorkers with pets by prohibiting insurance companies from denying coverage based on the breed of a family's dog. The bill now heads to Governor Cuomo's desk for his signature. We thank our New York advocates who took action to voice their support for this crucial legislation. We could not have done it without your help!
Once this bill is delivered to the governor, we'll need your help once more to ensure that this bill is signed into law. To stay posted on what you can do next, please join the ASPCA Advocacy Brigade today!
Did you know that in New York, it is legal for property insurance providers to significantly increase costs or deny insurance coverage altogether for applicants with specific breeds of dogs in their homes?
Not only is this practice unjust, it is unsupported by the industry's own data! Insurance claim data does not validate the idea that certain breeds of dogs are riskier than non-restricted breeds.
During a time of unprecedented housing challenges for New Yorkers, the cost and availability of insurance has become an even bigger barrier to homeownership for families with pets.
It doesn't have to be this way. The New York State Legislature is considering A.4075/S.4254 to prohibit insurance companies from overcharging on policies based solely on the ownership of a specific breed of dog.