New Jersey, Bill to Help Victims of Dogfighting Needs Your Voice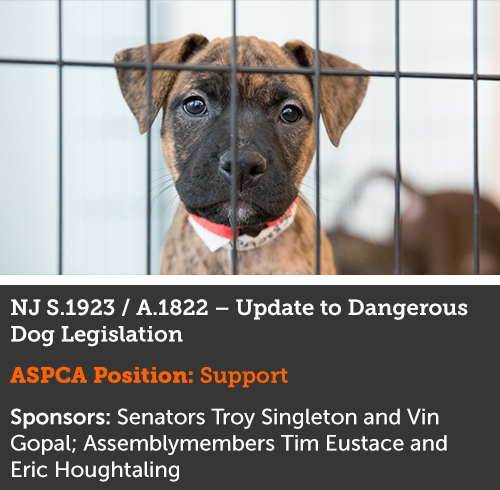 Update—November 28, 2018: We need your help! Important legislation to help vulnerable victims of dogfighting and abuse passed the NJ Senate unanimously but is now stalled in the Assembly. Please email your state assemblymembers and Speaker Coughlin and urge them to pass S.1923, as amended, in the Assembly. See action steps below.
The New Jersey legislature is considering legislation (S. 1923/A.1822) that would eliminate the damaging, automatic legal designations of "vicious" and "potentially dangerous" for dogs who were forced to engage in fighting activities or "unprovoked attacks."
Dogs used in the heinous "sport" of dogfighting cruelty victims, and they certainly should not be labeled as dangerous or punished because of their history of being abused. Such labels are not accurate, and they can have devastating, real-world consequences for these dogs: Burdensome confinement or in some cases even destruction under the dangerous dog law. Fear of heightened liability discouraging rescuers' and adopters' intervention on the victimized dogs' behalf. Concerns over damaging labeling deterring dog fighting prosecutions. 
S.1923 would allow dogs to be evaluated solely on the basis of behavior, with only genuine and unprovoked aggression resulting in restrictions on their participation in society. This is the most compassionate, fair and effective way to resolve concerns related to dangerous dogs in the community.
 
What You Can Do
Using the form below, please send an email to your state assemblymembers and Assembly Speaker Coughlin urging them to pass S.1923 as amended in the Assembly.
Thank you, New Jersey!