New Jersey, Thank Your Lawmakers for Keeping Dogs Off Chains & In Proper Shelter!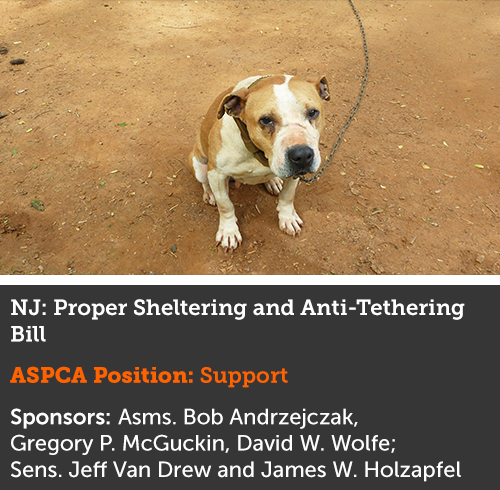 Update—August 8, 2017: Great news, New Jersey! The proper sheltering/anti-tethering bill was passed by both the House and the Senate, and has been signed into law by Governor Christie. We welcome the enactment of this new law that will protect dogs from inhumane chaining and ensure that all dogs, companion animals, and service animals receive proper shelter from frigid winters and sweltering summers. 
New Jersey's cruelty law is silent on dog tethering and provides very limited guidance on what constitutes proper shelter, making it impossible for law enforcement to intervene until an animal is in great distress, even when it's clear that circumstances pose a danger to an animal's welfare. The public expects animals to be protected from cruelty situations like this, but the current cruelty law did not match this expectation, frustrating both the public and law enforcement.
This new law will give law enforcement the tools needed to help these vulnerable animals by clarifying an owner's obligations and permitting earlier interventions if necessary. Specifically, it would require either more humane tethering (e.g., a 12-foot tether) or removal of a dog from a tether under certain circumstances (e.g., at night, when tethering is banned), and require that humane shelter is provided to all dogs, companion animals and service animals.

We thank Senators James Holzapfel and Jeff Van Drew, and Assemblymembers Gregory McGuckin,Bob Andrzejczak and David Wolfe for leading this effort to bring New Jersey's laws in alignment with the public's expectations for protecting animals from cruelty.

What You Can Do
Please use the form below to email your state legislators and Governor Christie to thank them for passing and signing this humane bill into law.

Thank you, New Jersey!