New Jersey: Gov. Christie Vetoes Bill to Regulate Commercial Pet Trade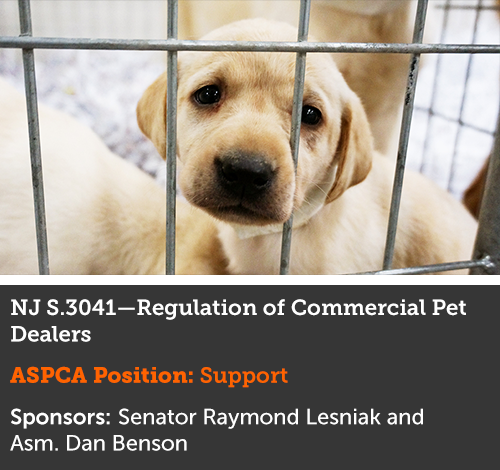 Update—May 2, 2017:  The ASPCA is discouraged by Governor Christie's veto of S. 3041, an important animal- and consumer-protection bill that would have prevented commercial pet dealers from selling puppies and kittens who were bred in cruel conditions to New Jersey consumers. We will continue to fight to enhance protections for both animals and consumers throughout New Jersey.

S.3041 would have regulated commercial pet dealers that sell cats and dogs in New Jersey has passed the state Legislature. In 2015, Governor Christie signed a bill that requires pet shops to disclose basic breeder information to purchasers, report this information to localities, and stop purchasing cats and dogs from unlicensed breeders and brokers or those who have committed specified federal animal welfare violations.
S.3041 would have reasonably expanded this requirement to include all pet dealers, not just pet shops, who sell cats and dogs to New Jersey consumers.
If signed, all pet dealers would have been required to report sourcing information to the state—instead of just locally—and could be barred from selling pets in New Jersey if they fail to satisfy their sourcing obligations. In addition to requiring pet shops to post federal breeder and broker inspection reports in their stores, the state Division of Consumer Affairs would have been required to post these reports online if the USDA failed to do so.

S.3041 would have protected New Jersey's consumers from the heartbreak and financial toll that result when sick pets are unwittingly purchased, and helped prevent the worst pet dealers from exploiting animals.