New Jersey: Urge Senate Vote on Predatory Pet Leasing Ban!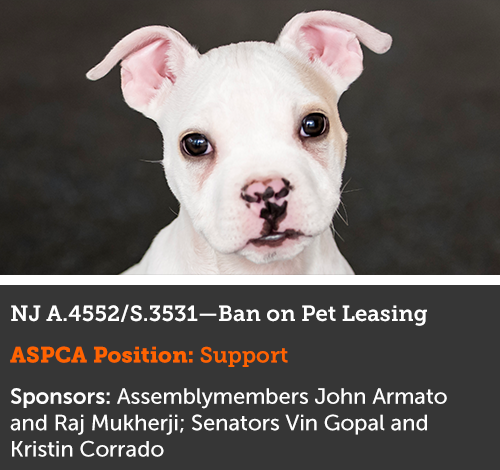 Update—June 17, 2019: S.3531 was passed by the Senate Commerce Committee, and now we need your help to make sure it gets called for a vote by the full Senate. Please see action steps below!
S.3531 would finally end New Jersey pet stores' inhumane practice of teaming up with private lenders to offer shoppers the option to "lease" a new puppy. These agreements allow the consumer to make monthly payments over a fixed period, but at a steep price. Purchasers find themselves saddled with hidden fees, high buyout payments and high interest rates.

Even after paying thousands of dollars, consumers can still lose their pets if they miss payments or are unable to buy out their contracts at the end of their leases. The animals could be repossessed as if they were used cars.
What You Can Do
This bipartisan bill overwhelmingly passed the Assembly, but it might not get the opportunity to pass the Senate before summer break. For that to happen, we need to make sure it gets called for a vote by the full Senate.
Use the form below to quickly email your state senator and urge him or her to bring this important bill to a floor vote.
Thank you, New Jersey!