New Jersey: Legislature Passes Ban on Predatory Pet Leasing!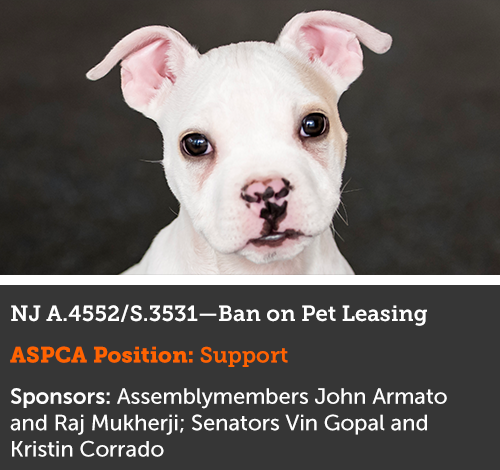 Update—June 28 2019: Amazing news, advocates! S. 3531 was passed by the full Senate and now heads to Governor Murphy to sign into law. Thank you to everyone who spoke up in support of this important bipartisan bill to protect New Jersey's animals and consumers.
S.3531 would finally end New Jersey pet stores' inhumane practice of teaming up with private lenders to offer shoppers the option to "lease" a new puppy. These agreements allow the consumer to make monthly payments over a fixed period, but at a steep price. Purchasers find themselves saddled with hidden fees, high buyout payments and high interest rates.

Even after paying thousands of dollars, consumers can still lose their pets if they miss payments or are unable to buy out their contracts at the end of their leases. The animals could be repossessed as if they were used cars.
 
What You Can Do
Stay turned for ways you can help.