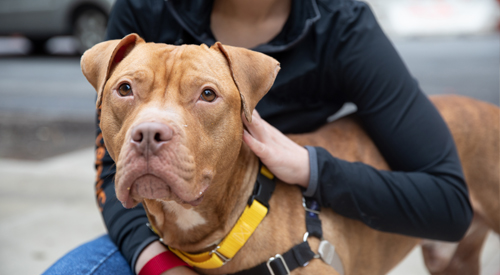 N.J. A.2401/S.3607— Responsible Dog Ownership Act
ASPCA Position: Oppose
Sponsors: Assemblymembers Benjie Wimberly, Yvonne Lopez and Craig Coughlin (Assembly Speaker); Senators Nellie Pou and Joseph Vitale
Update—July 7, 2021: Great news! This bill was held and not voted on by the Assembly. We do not expect further action on it—if at all—until after the fall Senate and Assembly election. We have heard from legislators that thanks to constituents like you, they understand that this is a problematic bill. We thank all of our New Jersey advocates who voiced their opposition to this inhumane legislation. Please take a moment to thank your legislator for opposing this bill.
New Jersey A.2401/S.3607 is a well-intentioned, but potentially harmful state bill that could leave homeowners with dogs feeling anxious about the consequences they would face if their dog ever escapes: pay to install a costly fence or face significant daily penalties of $250-750. Fearful homeowners might opt to hide their dogs to avoid these penalties by forgoing licensing, walking or socializing their dog, or even taking them in for necessary veterinary visits—all of which could be detrimental to public health and safety.
Moreover, if the goal is to protect communities from dangerous dogs, the bill's exemptions for non-homeowners, narrow focus on child victims and its approach to at-large dogs—which conflicts with the current dangerous dog law—create concern over the bill's fairness and likely effectiveness.
What You Can Do
Using our form below, please take a moment to thank your state legislators for opposing this bill.
Thank you, New Jersey, for all you do for animals!