NJ, Tell Rep. Frelinghuysen to Protect America's Horses: Sign Our Citizen Endorsement Letter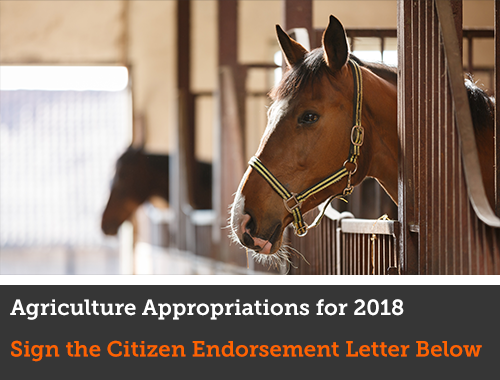 Horses are the state animal of New Jersey and are beloved in the Garden State. Although there's already a strong state law banning their slaughter for food within your borders, the slaughter industry crosses state lines and all horses, even New Jersey's, are at risk.
Congress just passed a spending bill to fund the government through September. Thankfully, that bill included language that will keep horse slaughter from returning to American soil. However, the U.S. House Appropriations Committee will soon take up a new Agriculture Appropriations bill for 2018.  With the current spending bill expiring in September, the slaughter ban must be renewed in order to protect horses—and your tax dollars—from this cruel and predatory industry. That very important vote could come in the next few weeks.
If you've been directed to this page, it's because you are uniquely able to make a difference on this issue.

Your U.S. representative, Rep. Rodney Frelinghuysen, is Chairman of the House Appropriations committee and he needs to hear from you that language to keep horse slaughterhouses closed must be included in the Agriculture Appropriations bill for 2018.
Help us demand action: Using the form below, sign our Citizen Endorsement Letter to tell Rep. Frelinghuysen to stand up for our nation's horses by voting YES on this bipartisan provision.