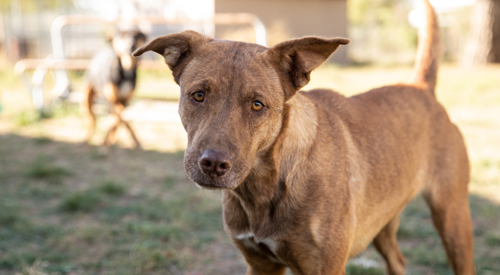 N.J. S. 981/A. 2354—Cost of Animal Care
ASPCA Position: Support
Sponsor: Senator Patrick J. Diegnan, Jr.; Assemblymember Raj Mukherji
Legislation re-introduced to help the Garden State's most vulnerable animals has passed the Senate with unanimous support. Now, we need your help to move this bill forward in the Assembly!
Learn More About This Bill
When animals in New Jersey are lawfully seized from dogfighting rings, hoarding situations or other circumstances of suspected animal cruelty, local animal shelters supported by taxpayers and private donors are often forced to pay the high costs of caring for them.
This financial burden can devastate local shelters' budgets, harming their ability to provide crucial services to their communities; it can even discourage law enforcement from rescuing animals from cruelty in the first place. This "cost of animal care" bill, S. 981/A. 2354, would allow shelters to seek reimbursement from pet owners whose animals have been removed from the home for the animals' protection.
With your help, the cost of animal care bill has passed the New Jersey State Senate twice with unanimous support – in December at the end of the at 2020-21 legislative session and more recently in March, just a few months into the 2022-23 session. If it passes in the Assembly Agriculture Committee and then the full Assembly, it will move on to the governor for signature. Please help us drive this essential bill over the finish line by taking action below! 
What You Can Do
Animals need your voice! Use our easy form below to send an email to your legislators, the Assembly Agriculture Committee and Assembly Speaker Craig Coughlin TODAY urging them to cosponsor and pass the Assembly bill, A. 2354.
Thank you, New Jersey, for all you do for animals!
Want to get more involved? Email us at grassroots@aspca.org for more ways you can help advance lifesaving legislation.