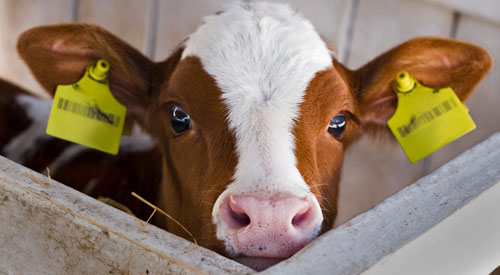 NJ S.1298/A.1970—Ban Gestation and Veal Crates
ASPCA Position: Support
Sponsors: Senator Vin Gopal and Assemblymember Raj Mukherji
Your voice is needed today to help ease the suffering of pigs and calves in New Jersey. State lawmakers have introduced a bill that would ban companies from keeping calves and pregnant pigs in extreme confinement in tiny stalls, often called veal crates and gestation crates. 
If passed, S.1298/A.1970 would align New Jersey with 14 other states, including Maine, Massachusetts and Rhode Island, that have banned cruel confinement in some form. Let New Jersey lawmakers know you care about this issue. Take action today!
Learn More About Cruel Confinement
Most mother pigs raised on industrial farms are confined in barren "gestation crates"—stalls no larger than 2'x7'—for most of their lives. Unable to turn around or take more than a step forward or backward, intensively confined pigs suffer greatly. Similarly, cramped "veal crates" are used to confine calves and immobilize these otherwise playful, energetic baby animals, preventing them from engaging in almost any natural behavior or social interaction. These are cruel tactics that disregard the wellbeing of animals in the name of profit, and a ban is long overdue.  
What You Can Do
Animals are counting on you. Please use the form below to send a pre-drafted email to your New Jersey state lawmakers, urging them to support S.1298/A.1970. Banning the cruel confinement of pregnant pigs and calves will be a critical step towards building a kinder, more humane food system.