New Jersey, Victims of Cruelty Need Your Voice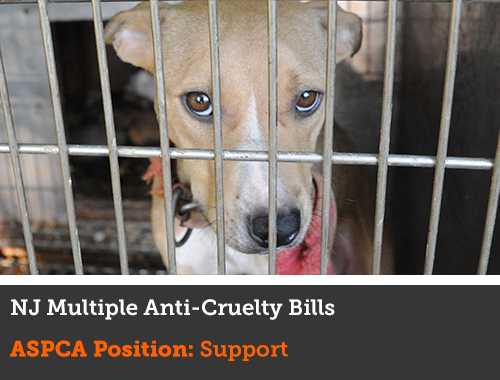 Update--March 26, 2019: We have good news! S.2674/A.4157 and S.1923 have passed both the Senate and Assembly, and now head to the Governor for his signature into law. Please help us get these important bills across the finish line! See action steps below.
Seizure of Animal Cruelty Victims (S. 2674/A. 4157):  This bill would clarify the circumstances under which law enforcement may step in to save animals who aren't properly tethered or are lacking shelter in bad weather. This crucial humane bill will also help ensure that seizures are executed correctly and animal cruelty is prosecuted. 
Update to Dangerous Dog Legislation (S. 1923): This bill would eliminate the automatic legal designation of "vicious" and "potentially dangerous" for dogs pulled from cruelty situations involving dogfighting. S.1923 would also protect rescuers and adopters from liability when they help these canine victims. In addition, it is hoped that by eliminating the harmful labeling of canine dogfighting victims, S.1923 will encourage dogfighting prosecutions. 
What You Can Do
Use the form below to quickly email Governor Murphy and urge him to sign these important bills.
Thank you, New Jersey!