New Jersey, Gov. Murphy Signs Bills to Help Victims of Cruelty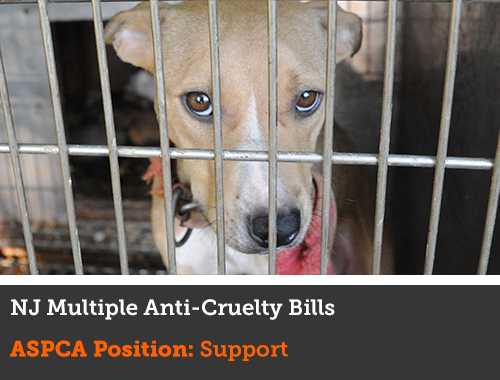 Update—May 10, 2019: We have good news! S.2674/A.4157 and S.1923/A.1822 have passed both the Senate and Assembly and were signed by Governor Murphy into law. Thank you all for speaking up on this important issue. 
Seizure of Animal Cruelty Victims (S. 2674/A. 4157):  This bill would clarify the circumstances under which law enforcement may step in to save dogs who are cruelly tethered and dogs, service animals, and pets who have improper shelter in bad weather or who are cruelly confined. This crucial humane bill will also help ensure that seizures are executed correctly and animal cruelty is prosecuted. 
Update to Dangerous Dog Legislation (S. 1923): This bill would eliminate the automatic legal designation of "vicious" and "potentially dangerous" for dogs pulled from cruelty situations involving dogfighting. S.1923 would also protect rescuers and adopters from liability when they help these canine victims. In addition, it is hoped that by eliminating the harmful labeling of canine dogfighting victims, S.1923 will encourage dogfighting prosecutions.