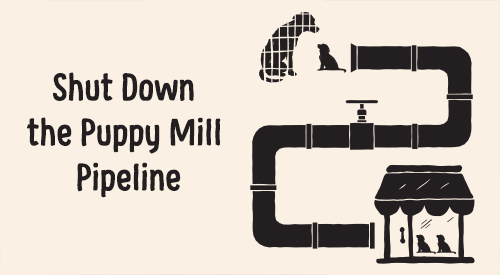 NY A. 4283/S. 1130—End the Retail Sale of Dogs, Cats and Rabbits in Pet Stores
ASPCA Position: Support
Sponsors: Assemblymember Linda Rosenthal, Senator Michael Gianaris
If you recently received a postcard from us, we urgently need your help. You are in a unique position to make a huge difference for puppies suffering at the hands of the cruel puppy mill industry.
Puppy mills are commercial facilities that breed suffering dogs over and over to produce lots of puppies as quickly and cheaply as possible. They do not care if the puppies are healthy, and they do not care where they end up … as long as they get paid.
The puppies for sale in New York pet stores come almost entirely from breeders in other states. They are transported here, sometimes over 1,000 miles, through a pipeline of middlemen.
But a new bill, A. 4283/S. 1130, can shut down the puppy mill pipeline by stopping commercial breeders from selling puppies to New York's pet stores, making it harder for them to profit from cruelty. You are one of just a handful of residents with a representative on the powerful Assembly Agriculture Committee, which has the power to determine the fate of this bill.
What You Can Do
Puppies need your voice to stop the importation of cruelty into the Empire State for good. Please contact your state lawmakers and urge them to support A.4283/S.1130.
1. The most important action you can take is to call your state assemblymember. Not sure who represents you in the New York Assembly? Use our Legislator Lookup tool to find them.
2. After you make your call, follow up by using the form below to email your lawmakers. The email urges them to support A. 4283/S. 1130 to keep cruel, out-of-state puppy mills from profiting in the Empire State.
Thank you, New York.