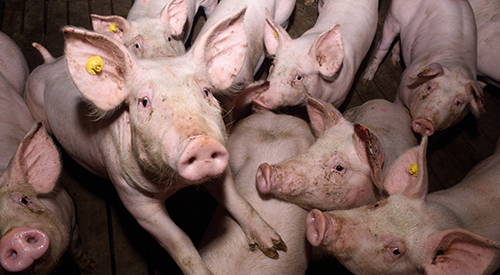 NE L.B. 662—Right to Farm
ASPCA Position: Oppose
Sponsor: Senator Beau Ballard
Nebraska lawmakers are considering a risky bill that could put communities throughout the state in harm's way. Your help is needed NOW to keep it from advancing.
Legislative Bill 662 protects the interests of "Big Ag"—extra-large farming corporations that prioritize profits, often at the expense of their own workers, surrounding neighborhoods, the environment and the animals in their care.
This so-called "Right to Farm" bill would allow Nebraska farms to expand or change certain practices or procedures without accountability for the negative impacts of these changes. Additionally, the bill would only allow people who live within a half-mile of industrial-scale farms to take legal action against them, even though the negative impacts of factory farming are experienced many miles away.
Learn More About "Right to Farm" Laws
As people gain awareness about the devastating health and environmental impacts of industrial farming, communities concerned about their wellbeing have taken action to combat these effects. But rather than reform their destructive practices, corporations are responding by pushing "Right to Farm" laws.
These laws restrict citizens from disputing changes or protecting themselves through litigation—even if an operation has expanded significantly or employs practices that cause pollution, reduce property values and infringe upon a neighboring family's quality of life.
Nebraska lawmakers should not allow factory farms to expand without regarding public health and safety. Take action today to protect people and animals across Nebraska!
What You Can Do 
Don't delay—your state lawmakers could vote on this bill at any moment. Please use our quick form below to send a pre-drafted message to your state legislator urging them to OPPOSE Legislative Bill 662.