North Carolina: Lawmakers Pass Legislation to Strengthen Big Ag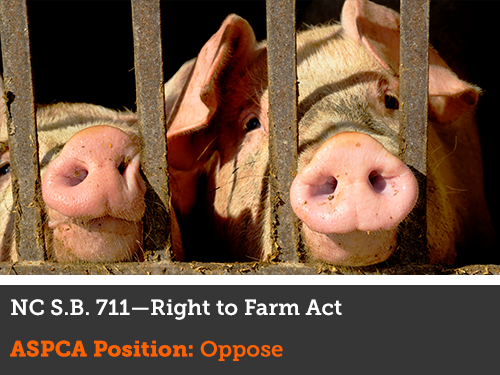 Update—June 27, 2018:  Bad news, advocates. The state Legislature voted to override Governor Cooper's veto of S.B. 711, legislation that will strengthen protections for agricultural operations and make it more difficult for North Carolina's citizens and communities to protect themselves against harmful, polluting activities. We are disappointed in this news, but we hope you will join us in thanking Governor Cooper for doing the right thing for farmers, animals and North Carolina's communities with his veto.
The North Carolina Legislature has added a harmful amendment to their Farm Bill that would prioritize big agribusiness over the rights of North Carolina's people, animals and land.
The "NC Farm Act of 2018," or Senate Bill 711 (S.B. 711), would further expand protections already in place for agricultural operations, making it more difficult, if not impossible for communities across the state to fight back against harmful, polluting activities.
North Carolina already has an explicit "Right to Farm" law on the books that allows factory farms to expand with little regard for the impacts they have on the livelihoods, health and safety of the state's family farms and rural communities.
We cannot let this stand. The Legislature should not prop up industries that disregard the health and welfare of North Carolina citizens by providing them with additional, unnecessary and unfair protections in S.B. 711.
 
What You Can Do
Please use the form below to send Governor Cooper an email thanking him for standing up for farmers, animals and North Carolina's communities. 
Thank you, North Carolina!