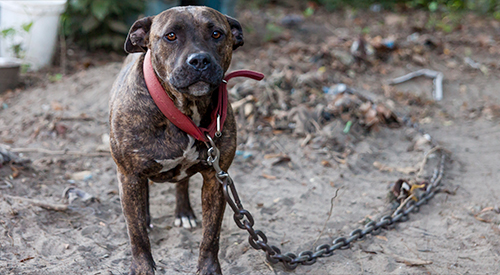 NC H.B. 851—Dangerous Dog Legislation
ASPCA Position: Support
Sponsors: Senator Woodard, Rep. Harrison
Did you know that North Carolina law automatically designates dogs rescued from dogfighting rings as "dangerous" if they show evidence (such as scarring) that they were "trained or harbored" for dogfighting?
Because of this unfair broad designation, these dogs, who have already suffered so much, aren't given the chances they deserve to be evaluated as individuals. Instead of trusting animal shelter professionals to evaluate, rehabilitate and adopt these victims of cruelty into loving homes, labeling all victims of dogfighting as "dangerous" typically results in euthanasia.

We need your help to stop this.

A bill pending in the North Carolina State Legislature would eliminate the automatic legal designation of "dangerous" for victims of dogfighting and allow local animal control agencies to evaluate them for their potential to be rehabilitated and eventually adopted into loving homes.
What You Can Do
Send your state lawmakers a letter using our form below.