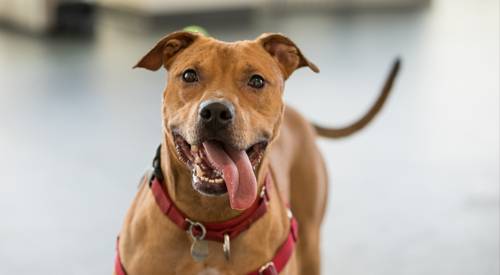 MO H.B. 365/S.B. 107—Prohibits Breed-Specific Legislation
Sponsors: Rep. David Gregory, Senator Sandy Crawford
S.B. 71—Includes Pets in Protective Orders
Sponsors: Senators Elaine Gannon and Holly Rehder, Reps. Tracy McCreery and Lane Roberts
ASPCA Position: Support
Update—May 18, 2021: Though the state bill to End Dog Breed Bans (H.B. 365/S.B. 107) passed out of committees in both the Missouri House and Senate, the Legislature adjourned for the 2021 session before it could receive final floor votes. We are optimistic about next year: Thanks to your dedication to this issue, we are confident that we are closer to ending dog breed bans in Missouri! If you want to stay updated on next steps, please join the ASPCA Advocacy Brigade.
In addition to our work to end breed bans, the ASPCA collaborated with a broad coalition to pass Senate Bill 71—lifesaving legislation that will allow pets to be included in orders of protection, so vulnerable people and their pets can safely leave an abusive situation.
Research indicates that up to 89% of women entering domestic violence shelters report that their abuser threatened, harmed or killed a family pet. Additionally, as many as 48% of domestic violence survivors delay seeking safety, fearing what could happen if they left their pets behind.
With this new law, Missouri joins more than 30 other states that have enacted meaningful public policies to safeguard both humans and pets from violence in the home.
What You Can Do
Please take a moment to thank the four Missouri legislators who were key to the passage of S.B. 71. You can email them using the form below.
Thank you, Missouri!