Missouri, Don't Roll Back Puppy Mill Regulations!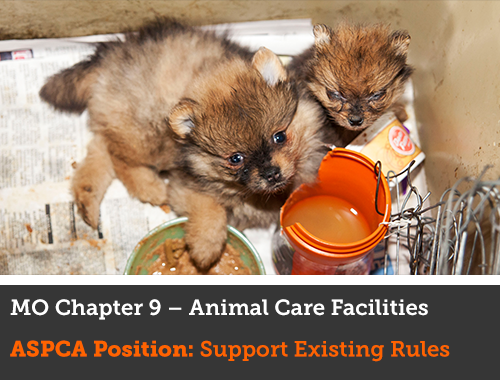 Update—September 11, 2017: The comment period has now closed. Thank you to everyone who spoke up! Please stay tuned—we may need your help in the future.
Missouri animal advocates, your immediate help is needed. Shortly after becoming governor, Eric Greitens ordered a review of all existing state administrative rules, including those governing animal welfare. Your voice is needed now to ensure hard-won animal protections are not eliminated.   
The state is hosting an open comment period right now—it ends August 31. As a state resident, you have a right to comment on this review process and make your voice heard. Please make sure the Governor knows Missouri supports its existing animal welfare rules, which are currently under review. 
If we don't offer our comments in support of these rules, large corporations that view these humane rules as burdensome may succeed in eliminating them entirely—this could set anti-cruelty measures, including those governing puppy mills, back by decades.
Not long ago, Missouri was widely known as the "Puppy Mill Capital of the U.S." Let's not revert back to those dark times—protect animals and your state's reputation by taking action today.