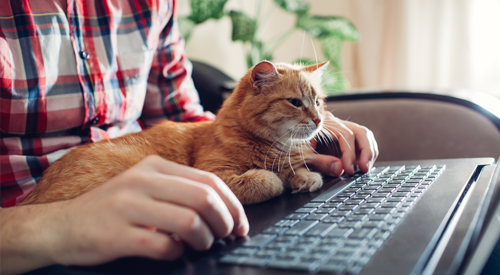 MI H.B. 4912—Virtual Vet Care Restrictions
ASPCA Position: Oppose
Sponsor: Rep. Robert Bezotte
If your pet has ever become ill overnight when most veterinary clinics are closed, you know how vital it is to be able to connect with a licensed veterinarian quickly. Telemedicine not only makes vet care more accessible in situations like this, it also benefits a wide range of people and pets—including anxious pets and people living in remote and underserved areas.
Under current law, Michigan vets, pet owners and their pets have flexibility to safely and reliably access virtual vet care.
However, proposed legislation H.B. 4912 could severely limit Michiganders' access to veterinary telemedicine by imposing outdated and unnecessary barriers.
Throughout the pandemic, pet owners have delayed seeking necessary care—or stopped altogether—due to long wait times at clinics, PPE shortages and concerns for their personal health and safety.
We need to maintain accessibility for virtual vet care. That's why we need your help today!
What You Can Do
Please use the form below to email your state representative today and urge them to safeguard virtual vet care in Michigan.