Michigan, Support Animal-Protection Bills!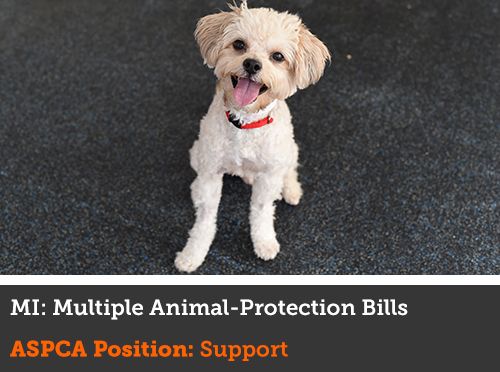 Update—December 29, 2016:  Wonderful news, advocates! We are pleased to report that H.B. 4353, which will regulate puppy mills for the first time in Michigan, was signed into law by Governor Snyder on December 28. This victory is in large part due to those of you who spoke up and made your voices heard on behalf of the state's puppy mill dogs and shelter animals—thank you!
H.B. 4898/S.B. 339, the original large-scale breeder regulations bills, were amended into H.B. 4353. This bill will now require breeders with more than 15 female breeding dogs to register with the state and vaccinate and treat their dogs for parasites. It will also allow shelters to tap into Michigan's criminal database to assist in background checks of potential adoptees. The bill was signed into law by Governor Snyder on Wednesday, December 28.
 
Unfortunately S.B. 239, a bill that would have ended breed-specific bans statewide, died before being brought to a vote when the Legislature adjourned for the year. Thank you to all of you who made your voices heard on these important issues. We hope you will stand beside us as we fight for Michigan's dogs in 2017.