Maryland, Make Dogs and Cats Used in Testing Available for Adoption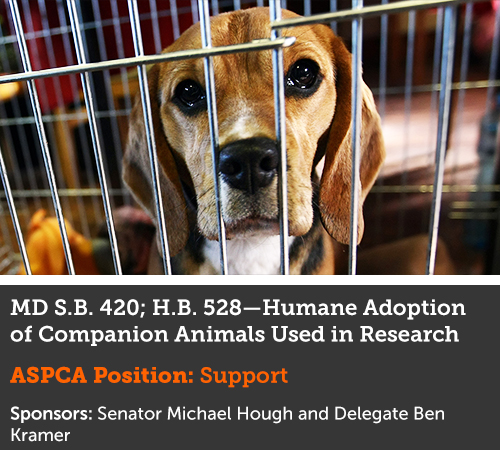 Update—March 21, 2017:  Unfortunately, this legislation did not make it out of committee and is likely dead for the year. It's critical that the public lets the Legislature know we are disappointed with this outcome and urge our elected officials to prioritize this issue next year. Please contact your legislators and the opponents of the bill today to let them know you are disappointed to see this legislation fail and hope they will pass it next session. See action steps below.
Maryland doesn't currently require research institutions to make the hundreds of dogs and cats in laboratories available for adoption once their time in research is over. There are thousands of people willing and able to adopt these animals, so there is no reason not to afford dogs and cats a chance at a normal life once they are no longer needed for research.

Fortunately, the Maryland General Assembly is considering the Humane Adoption of Companion Animals in Research Act (S.B. 420/H.B. 528), legislation that would simply require research institutions work with willing animal rescue organizations to place dogs and cats in homes at the conclusion of testing.
 
What You Can Do
Using the form below, send an email message to your state legislators and the bill's opponents, Johns Hopkins University and the University of Maryland, letting them know you are disappointed this commonsense humane legislation failed to pass.