Maryland: Thank Governor Hogan for Taking Historic Stand Against Puppy Mills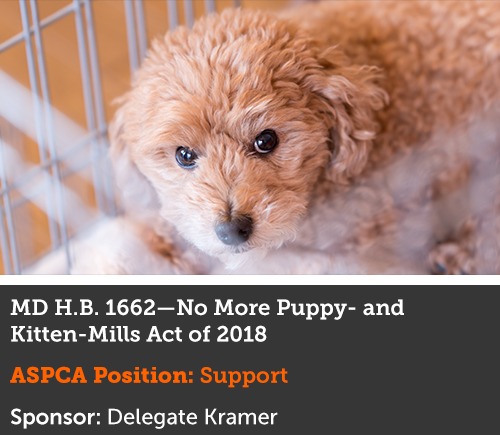 Update—April 24, 2018:  Governor Hogan signed H.B. 1662 into law, making Maryland the second state in the country to reject cruel breeding practices by banning the sale of dogs and cats in pet stores. This is a huge victory for dogs and cats. Please join us in thanking Governor Hogan for taking this huge step for pets and consumers—please see action steps below!
Most puppies sold in pet stores come from commercial breeding operations, which are designed to prioritize profit over the welfare of the animals in their care. Animals at these facilities are generally kept in crowded, unsanitary conditions without adequate veterinary care, food, water or socialization, and consumers are often left bearing the financial loss and heartbreak that can occur when sick pets are purchased.
What You Can Do
Please place a quick, polite phone call to Governor Larry Hogan at (410) 974-3901 to thank him for signing this bill into state law.
Then use the form below to send a follow-up email with the same message of gratitude.
Thank you, Maryland.