Maryland: Thank Your Lawmakers for Protecting Animals in 2017!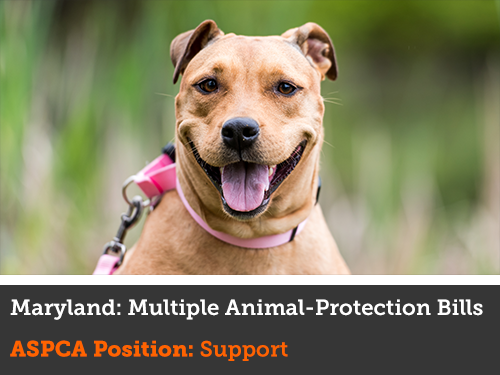 Maryland's legislative session recently adjourned for the year, but not before the General Assembly passed—and Governor Hogan signed—a host of important animal welfare legislation! These bills include:
• S.B. 573/H.B. 334: Lowers the commercial dog breeder licensure threshold from 15 to six dogs so puppy mills cannot go undetected and unaddressed.

• S.B. 631/H.B. 941: Establishes a fund to reimburse animal shelters the costs associated with caring for animals seized in cruelty cases.
• S.B. 790/H.B. 455: Updates the cruelty code to make it clear that various acts of animal cruelty should be charged separately, helping ensure that abusers receive adequate sentences.
• H.B. 626: Requires certain animal shelters to meet uniform standards of humane care and be subject to inspections by the Maryland Department of Agriculture.
• H.B. 1463: Requires veterinarians to report animal cruelty in the same way that doctors or teachers are required to report child abuse.
While we are thrilled to see these bills pass, there was one important bill that did not make it past the finish line this year: the "Beagle bill" (S.B. 420/H.B. 528). This commonsense, humane bill would have required research institutions to work with willing animal rescue organizations to adopt out dogs and cats once they are no longer needed for research.

If you want to find out how your specific legislators voted on these bills, please email chloe.waterman@aspca.org.
 
What You Can Do
It's so important to thank your state lawmakers when they vote the right way for animals! We hope that by receiving positive feedback, they will continue to work to protect Maryland's vulnerable animals. Please use the form below to send an email to Governor Hogan and your state legislators to thank them for making 2017 a great session for animals and encourage them to prioritize the "Beagle bill" next session!

When you email your lawmakers, you'll be able to email the presidents of John Hopkins University and the University of Maryland at the same time to urge them to reconsider their opposition to the the "Beagle bill."
Thank you Maryland!